Innovative plaster mixtures and coatings
Climate System®
insulation / interior / exterior / dehumidification / roofs
Climate System® products are an environmentally friendly solution for insulating and dehumidifying facades and interiors of new as well as historical buildings.
Read more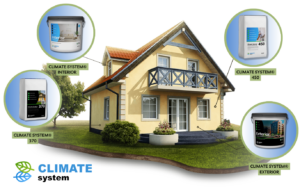 Energy saving
Climate System® Insulation System
Show product
Our products
Our products are divided by application suitable for:
Why Climate System®
We are no amateurs, we have experience:
Applications since 1986
We build on more than 30 years of tradition and experience with the application of thermal insulating plasters and thermal reflective coatings.
Quality guarantee
98% of customers are satisfied with our materials and services, and 100% of them would recommend Climate System® to their family and friends.
In more than 30 countries worldwide
Our materials and technologies are successfully used in more than 30 countries on 6 out of 7 continents.
Specialised consulting
We offer specialised consulting that fits the needs of our customers and business partners. Whether you need to insulate an apartment building or a yurt – we are here for you.
Our services
Consultancy / training
Paid consultation
Project documentation
Contact us
Testimonials from our clients
We didn't want a classic contact insulation for our block of flats, so we chose Climate System. I had some concerns, but I have known for more than six years now that this was the best decision of our association of uni owners. Thanks to Climate System we save on energy every year and the facade does not go green with algae or fade.
We saved 20,000 euros thanks to Climate System when replacing the roof on our apartment building. And we saved 25-31% on gas bill during the first winter (and it was a long and cold one) after we renovated our facade with Climate System Exterior. At this year's meeting and billing, we all evaluated this step as an excellent investment in our own housing.
I used Climate System for the reconstruction of my cottage and I must say that the results amazed me. Not only is there no trace of mildew anymore, but the whole climate in the rooms has completely changed - in layman's terms they are "airier", the feeling of cold feet (especially during winter) has disappeared ... In addition, any dirt can be easily wiped from walls (owners of tiled stove fireplaces know, what I'm talking about) ...
Originally, I just wanted to get rid of mildew in the bedroom and children's room, but we were so excited about Climate System products that we gradually renovated the entire apartment with them. I have a feeling it's not so dusty at home anymore. My son's asthma has almost disappeared and we are all literally breathing easily. As a bonus we also pay less for heating.
Thanks to the Climate System thermal insulation of our apartment building we save on heating every year – and they even return us money from our yearly gas bill! Everyone compliments us on our facade. We are very satisfied.